A stunning tribute to one of the greatest Thoroughbreds that has ever lived.
This fine art sculpture captures Seattle Slew's dramatic and imposing presence as he thunders down the stretch towards victory!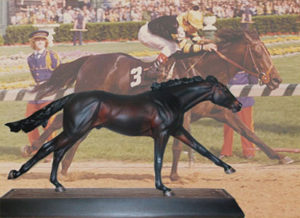 Sculpted originally in clay by award winning artist Kitty Cantrell, each piece will be made of fine artist's quality resin. Each piece will then be painted by hand by award winning artist, Caroline Boydston. Both artist's have captured the smallest details, including Seattle Slew's distinctive eyes, and finely chiseled facial structure.
Edition size will be 77 of Seattle Slew running free and 77 of Seattle Slew with tack and jockey (to be released at a later date). All pieces will come with a signed and numbered certificate of authenticity.