A reflection of a magical moment in Thoroughbred racing…
Artists' Kitty Cantrell and Caroline Boydston have been commissioned by Mrs. Penny Chenery to bring you a tribute to the most awe inspiring and legendary horse ever… Secretariat!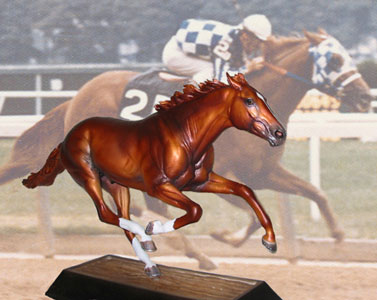 This is a limited edition sculpture, originally done in clay by Kitty Cantrell. Each sculpture is painted as a portrait of the great horse himself by Caroline Boydston.
There are two versions. The first version is Secretariat running free with no tack or jockey. The second version is Secretariat with his full racing tack and jockey Ron Turcotte as he carried the fabled blue and white Meadow silks to his legendary 31 length victory of the Belmont Stakes, winning the coveted Triple Crown!
There are a very limited number of pieces. Version #1 with no tack is 48 pieces only. Both versions came with hand-signed numbered Certificates of Authenticity. Both versions are sold out!
For those of you who have been waiting for the bronze version of the sold -out resin edition, the wait is over…but the bronze edition is also nearly sold out. Check secretariat.com for more information.
The bronze sculpture sits on a base adorned with two brass plaques. The front plaque contains the general information of Secretariat and his pedigree while the reverse plaque is individually engraved with the specific edition number.