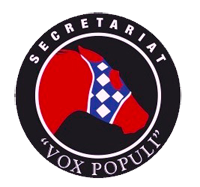 Kitty Cantrell and Caroline Boydston received the honor of having their artwork selected for the "Vox Populi" award which was created to acknowledge great Thoroughbreds. The award was a racing Thoroughbred bust, in bronze, that was sculpted by Kitty, with a "custom patina" by Caroline, as a portrait of Secretariat.
Mosses Accept Secretariat Vox Populi Award
On behalf of their much-beloved ZENYATTA, Mr. and Mrs. Jerry Moss accepted the inaugural Secretariat Vox Populi ("Voice of the People") Award from Penny Chenery in a special winner's circle ceremony at Santa Anita on Saturday.

Chenery instituted the award, the first of its kind in horse racing, to recognize the horse whose popularity and racing excellence best resounded with the American public and gained recognition for the sport during the past year.

Zenyatta was an obvious choice as the first honoree, in light of the legions of fans that she inspired, and the media coverage that she generated, over the course of her glittering career.

The custom-made trophy, a bust of Secretariat, was presented to the Mosses, with trainer John Shirreffs and his wife, racing manager Dottie Ingordo-Shirreffs, also on hand.

Retired following her only loss in 20 career starts, an agonizing near-miss to Blame in the November 6 Breeders' Cup Classic (G1) at Churchill Downs, Zenyatta has continued to be a newsmaker. In early December, she was honored with a grand Hollywood Park send-off, and greeted by a crowd of hardy souls at Keeneland en route to her new home at Lane's End near Versailles, Kentucky.

Zenyatta starred at the Eclipse Awards banquet in mid-January, garnering 2010 Horse of the Year honors and her third straight champion older mare title. By the end of the month, the seven-year-old mare made headlines again with the announcement that she would begin her broodmare career by visiting Bernardini.